Proprietor David Shamanik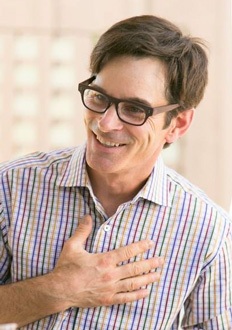 ...has been working with gardens in the Bay Area Since 1999. He began his career as a pruner/tree specialist and it remains a favorite part of his work with plants.
Besides having a base of regular maintenance gardens, Shape of the Earth completes several large-scale projects annually. The work often includes irrigation, lighting, stone work / hardscape and water features along with design and plant selection.
We can accomodate a range of project sizes and we enjoy whatever challenge comes up. Though most of the work is done by David personally, we also have some talented people on the team. We pay strong attention to detail and pride ourselves in providing the very best customer service.
The company's number one goal is to create a natural yet refined look. David will bring an artistic touch to your garden with lighting, shape, texture and creative materials. In his career David has also headed several projects in Hawaii as well as several rural projects here in California. Being a fan of tropical plants, he also does interior plant care and keeps many beautiful plants at home and for his clients. This year Shape of the Earth will be moving towards solar gardens which use the sun to power both yard lighting and irrigation.
Shape of the Earth is currently expanding to Marin county. We're looking forward to serving new clients in the San Raphael, Mill Valley and Corte Madeira areas. Our San Francisco clients are centered in the Noe Valley, North Beach, Pacific Heights and Castro districts of San Francisco.
Check out my interview, Maintaining Irrigation Systems, on BayAreaForSale.com, one of the top sites for California real estate, including San Francisco, CA homes for sale. BayAreaForSale.com also services Florida real estate and California real estate.
Satisfied clients
"I had a strip of land next to my house that has been a neighborhood eyesore for many years. I was finally ready to do something about it, and tried out Cole Hardware's referral program to suggest a landscaper. Their first choice was Shape of the Earth, and although I also interviewed others, I really liked David's professional yet totally down-to-earth attitude.

He came over promptly, listened to my concerns and ideas for the site, and came up with some options within a few days. Ideal! Part of what was needed was a stone retaining wall that would protect my house from soil runoff, and make it harder for want-to-be taggers to get close to the house. His stone mason did a fabulous job on a dry-stacked wall!

I enjoy gardening so did the planting myself, but as I was in the yard doing it, each and every person who went by was truly overjoyed with the results. And when I ran into a snafu with some irrigation I had put in, David came over promptly and took care of it for me so I didn't have to worry about losing my plants while on vacation.

I have already recommended him to others in the neighborhood, and gave a glowing review back to Cole Hardware. Shape of the Earth really delivered great service for me, and I'm sure I will use them for my garden maintenance too (and maybe redoing the backyard that could use some help...)."
--Sandy Sherwin
"If you have a vision of how you would really like your garden to look and feel, and you prefer to not lift a finger to get it that way, you can trust David to listen closely and to get the job done beautifully. Some might even say we were pretty picky, but not David.
Starting over from the scratchy dust bowl that had been our "yard" for two years, and was well loved by our cat Charlie, David led us through decisions, visits to stone yards, nurseries, The Urban Farmer, and to view his other projects. We were able to collaborate with him while we watched him and his talented crew install our peaceful island of respite in the midst of the City's cachophany.
David is responsible, hard working, trustworthy, and has demonstrated a remarkable depth of knowledge about his craft. High marks for hand holding the novice garden customer, for his vision, and patience. We would highly recommend David if you want to make a stunning space in your yard to enjoy entertaining, reading, and watching hummingbirds and butterflies investigate you and your outdoor life."
--Dora Weber
"You are the best gardener I have ever had, and do such great work.. besides being a fun professional that always comes thru.."
--Anita Weissberg
Thank you again for all of your hard work on our yard. Your dedication and vision transformed our disaster area into a place of beauty and tranquility. You took on a lot when you took on this project - and it all came together perfectly. The stonework, the woodwork, the trellises, the planting, the drip system, the potted plants....it's all just right...."
--Jill Stengel
"Dear David --
Thank you very much for the beautiful work you did in our garden! If you are still interested in repairing our pond(s) and/or fixing the tree stump border that has decayed, please call us as we would love to have you do it. Thanks again!"
--Suzanne Maston