What We Do
Greener Solutions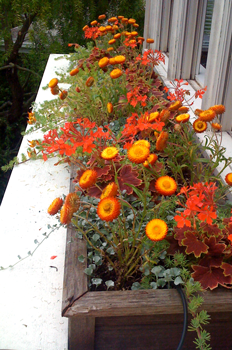 Shape of the Earth has been developing and implementing more sustainable and environmentally gentle services and products. More and more the push is towards saving water, decreasing harmful waste and reducing the impact that caring for and enjoying your garden has on the earth. Ask Shape of the Earth about using organic nutrients, compost and weed control products that are safer for your children and pets and more friendly for the planet. Reclaimed and recycled materials can be used at virtually any stage of garden care or installation. You can have solar powered or low-voltage LED lighting installed for an energy efficient glow in your garden. Solar energy is also an excellent green solution for running an irrigation system or even a pump for your pond or fountain.
We can help you reduce water waste by designing and installing a low water use drip irrigation system to replace a spray system. Even just repairing and maintaining your current system can save water. You might consider planting more drought-resistant plants, or replacing all or part of your thirsty lawn with sensible and attractive flagstone.
A trend we're seeing more and more of on the west coast is Artificial Grass. New products have a realistic look and feel, are clean, safe, non-toxic, lead free, and low maintenance. It's particularly useful on hillsides and other difficult to irrigate areas. The need for noisy, carbon monoxide spewing and fossil fuel burning lawn mowers is eliminated. Artificial lawns are extremely durable and can be cleaned with a simple garden hose.
Think about having Shape of the Earth build raised-bed vegetable gardens if you want to use your land to grow your own food.
Maintenance
Hiring a company to perform regular maintenance is one of the most valuable things you can do for your garden. A garden's needs change as the seasons come and go. With regular visits, a skilled and experienced gardener will get to know the plants, get a feel for soil and light conditions, and by doing so, anticipate needs and catch problems early. You'll want a company like Shape of the Earth who provides reliable and responsible maintenance service. Over time, Shape of the Earth can build a relationship with your garden and be the guiding hand that can make your landscaping great.
Design
Perhaps it's time to start from scratch with your property, or maybe you've just moved in. Where to start can be overwhelming. David is an expert at plan building, tailoring it to the specific uses of each client he works with. He'll ask questions about what you want to use your property for and how much time you'll be putting into doing your own gardening. His personal aesthetic approach to design is to keep it natural looking with refinement and polish. He'll work with you to create a timeline and perhaps a drawing before any work starts.
Pruning
We're fortunate to have an excellent climate in Northern California for growing a huge variety of plants, and often it's too much of a good thing - your garden will quickly get overgrown and unhealthy without regular pruning. It's more than just for aesthetics: your plants love having dead material removed, and you'll love how the scale of your garden stays manageable. But if aesthetics are important to you, Shape of the Earth can bring a truly artistic eye to the job.
Trees
Perhaps David's greatest source of pride is the work he does with trees. Whether it's helping to train a young tree or giving an old tree new life, a good, professional pruning job makes a world of difference. Pruning helps a fruit tree produce a greater yield, can bring light to lower regions of the garden that need it, or restore the view out of a window in your home. David has been pruning professionally for over 15 years. He can also help you find the right tree from a nursery, whether you want a juvenile or mature one for your specific needs.
Irrigation
It can be hard to keep up with your garden's watering needs, especially when the climate is as dry as it can be in the Bay Area. Not only that, using a regular garden hose isn't the most efficient way to maintain a garden in terms of conservation. Shape of the Earth brings a wealth of experience to the job, with knowledge in a variety of system types: e.g. drip systems, sprinklers, catchments, grey water reclaiming, above ground or below. Even small gardens or container gardens could benefit from regulated watering systems. Your garden will even get watered while you're on vacation.
Clean-ups
Although it's strongly advised against, sometimes people will defer a regular maintenance routine with their garden until it's overgrown and unmanageable. Not only can it be unsightly, but an overgrown garden can harbor pests (like mice or mosquitoes), moulds, or cause safety hazards. All in all, it will reduce your enjoyment of and the value of your property. Shape of the Earth can help you get to the bottom of it. Even if you take good care of your garden, a twice yearly clean-out is recommended. The Shape of the Earth team can perform a thorough pruning and removal of dead leaves and debris and haul it away, leaving you with a garden to be proud of -- or at least a good place to start!
Staging
Perhaps you're throwing a garden party, having house guests, or selling your home. You want your property to look its best. Shape of the Earth can start you off with a good clean-up and generally improve the aesthetics with fresh mulch, new plants, and whatever repairs are necessary. You might want to just add some color to make the garden more showy, which is great for an open house. David excels at working with realtors to bring extra sparkle to a home.
Lighting
A garden can have a magical beauty at night with the right lighting -- and not only that, it's more safe to walk through! Not only can Shape of the Earth help you find the most attractive solution, David has expertise with a variety of low-voltage landscape lights including L.E.D and solar-powered that won't increase your energy consumption.
Consultations
Maybe you love to do the work yourself, but you need expert advice. Call David for questions about where to get the things you need and how to do things. Maybe you need a truck, or maybe you're an amateur gardener who wants to start off on the right foot. Try Shape of the Earth for consultation services.